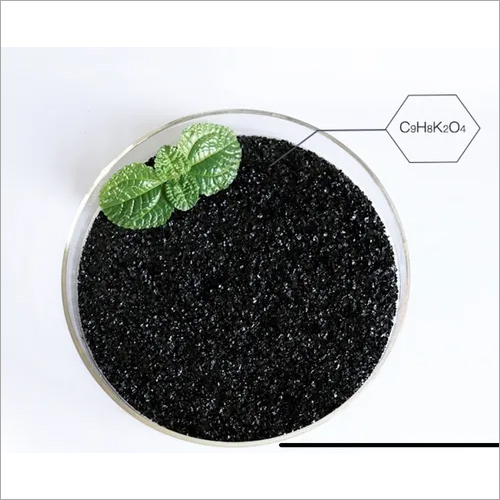 High Quality Super Potassium Humate Flakes
Price And Quantity
Product Specifications
68514-28-3

Fruit Growth, Agrochemical, Plant Growth, Agriculture
In Cool and Dry Place

Foliar applications : - Apply 1 Kg in 100 Litre of water for 10000 sq ft land with or without micronutrients. Soil Application: Apply 1 Kg for 10000 sq ft land for irrigation or 1 Kg in 1000 litre of water for spray as a stand alone or with other Fertilizer.
Product Description
Super Potassium F Humate Shiny Flakes
:
Fertinagro India Pvt Ltd is the TOP LEADING IMPORTERS, SUPPLIERS and WHOLESALERS of SUPER POTASSIUM F HUMATE SHINY FLAKES in India. We import very high quality product and supply to all the Indian states such as Maharashtra, Gujarat, Karnataka, Madhya Pradesh, Uttar Pradesh, Jharkhand, Bihar, Delhi, Kerala, Andhra Pradesh, Telegana etc.
About Potassium Humate :
Humic acid and other Humic substance , collectively referred to as Humate, are final stage of organic matter as it degrades to its smallest possible sizes. They are extremely complex molecules, formed naturally over time by soil microorganism as they recycle the nutrients and organic matter present in decaying plant material. In healthy , pristine soils, Humate are constantly formed by the life and death cycles of plant roots, microorganisms and fungi in the soil. Modern agricultural practices have disrupted this cycle - in order to maintain good soil health, it is now necessary to add this critical component back in to soil, so that we can reap the benefits of working with instead of against nature.
The specifications of the product supplied by us is as follows :
Product name - Super Potassium F Humate




Appearance - Shiny Flakes




Color - Black




Solubility- 99 percentage min




Potassium as K20- 10 percentage to 12 percentage




Humic Acid - 70 percentage min




PH - 9 - 10




Moisture- 15 percentage (w/w)




Flakes size - 1mm to 3 mm / 2 mm to 5 mm ( we have both kinds)



Advantage and Applications-
For Soil :-
* Enhancing nutrients uptake by combining nutrients and Humic aid as well as keep a well balanced nutrients
* Improving the structure of soil, increasing the buffering powder of soil , optimise N.P.K absorption by plants
* Neutralising both acid and alkaline soils, regulating the PH value of soils, with the prominent effect in alkaline and acidic soil.
* Enhance the decomposing of pesticides residue or natural toxic substances in soil
For Plants :-
* Directly influence the metabolism of cell , improve the efficiency of plants breathing and photosynthesis.
* Plant growth stimulant, promote root development and stimulates seed germination.
* Enhancing the resilience of crops, such as cold, drought, pest, disease and toppling resistance.
* Stabilising nitrogen and improving efficiency
* Promoting healthier, stronger plants and beautifying experience.
Trade Information
Yes

Free samples are available
In New Craft Paper Bags with PE liner inside Packing In 25.000 Kg Net and 25.100 Gross

All India
ISO -9001:2015 QMS Certified company.ISO-14001:2015 EMS Certified company ISO-18001:2007 OHSAS Certified company
Contact Us
Office no 108 & 109, Ganga Collidium (Dhan Ganga Business Centre), Near Ganga Dham, Market Yard Pune Maharashtra India 91-20-24245588
Phone :08805888888